I have a confession: I'm an organizing junkie.  I read organizing blogs.  I watch organizing videos.  I read organizing books.  I'm seriously addicted to the idea of organizing.
Did you notice that?  I love the idea of organizing – but I don't like the process and the work involved to get and stay organized.  In fact, getting organized is kinda fun.  Invigorating actually.  But the staying organized – well, that's a whole other ball game.
But as I get prepared to start student teaching in the fall and plan a wedding and move in with my fiance, I have put organizing as a whole new priority.  I need to de-clutter, give everything a home, and put it all away so that I have more time to do fun things like research my ancestors!
And my favorite tip that I've picked up in all my obsessive organizing years is this: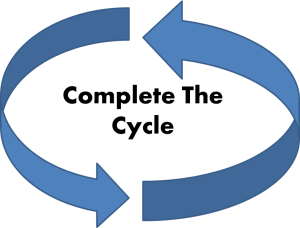 So, if you print a report out, file it.  If you are scanning pictures, name them and digitally file them away.  Complete the cycle.  Don't stop half way.
And it's so easy to stop half way – to sit that freshly printed report down on your desk with the best intentions of filing it later.  But then later never comes and pretty soon you have a hefty stack of paper on your desk to file.  And then you avoid that stack like the plague and hope it magically files itself.  But this ain't a Harry Potter movie – those papers aren't going to put themselves away.
You have to put them away.
Same goes with finding a new record – analyze it and then enter into whatever genealogy program you use.  Name the record.  Give it a home and file it away.
But what if you're thinking, "But Elyse, I don't *have* a cycle for _________".
Well then, you, my dear reader, are in luck!  Stay tuned for the next post when I talk about how to create a cycle for a genealogy or family history task.