Genealogy workflow is how a genealogist does research, documents it, and records it.  In the next few blog posts, I'm going to be talking about my personal genealogy workflow in hopes of inspiring or helping others develop their own genealogy workflow.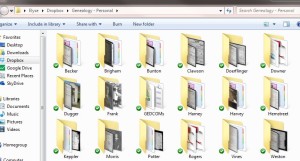 Today's Topic: Digital Records.
Step #1: Find a record on a website (like Ancestry.com or FamilySearch), online database, or a microfilm record that I've saved via a flash drive, or other book/document/record that is captured with a digital camera or scan.
Step #2: Save the image to the appropriate surname folder in DropBox.  If the record has more than 2 pages (like a military file), create a folder for the record within the appropriate surname folder and then save each page as an image.
Step #3: If the picture needs annotating (like highlighting the particular parts of the image that are related to my ancestor or to add a source citation), I use the Chrome add-on, Awesome Screenshot: Capture & Annotate
Step #4: Transcribe and analyze the digital record in Microsoft OneNote (AKA: The program I can't live without!).
Step #5: Enter fact(s) in RootsMagic with source.
Step #6: Add notes, transcription, and possibly theories to fact notes.  Add ideas of where to look next to person notes.
Step #7: Add the information to WikiTree.  This step is especially important to me when I am collaborating with another researcher.  [Note: I add the new information manually to my WikiTree profiles.  I uploaded a GEDCOM in September 2010 – the GEDCOM import made the biographies ugly and not easy to read.  So I've been slowly going back and editing each profile for readability – starting with my brick wall ancestors and the ancestors I'm currently working on.]
Some Notes & Comments:
In my pursuit to be an all digital genealogist, I almost never print anything out.  Paper takes up space and right now, I just don't have the space.  Plus, I figure my future children will not want to inherit binders full of stuff and it will sadly, be tossed.  So for me, digital is the way to be.
OneNote is my favorite for tracking my thought process and writing down my hypothesis.  I use it because I can add images, screenshots, and text – which makes writing out my thought process much easier.  Plus, it's all searchable.  Once my hypothesis is written out, I copy it into my RootsMagic database for either the person or the fact (sometimes both) note fields.