After watching a webinar on mind mapping given by Thomas MacEntee (of HackGenealogy and Geneabloggers fame) at my local society meeting about two months ago, I have been addicted.
I've used mind mapping for years for my school work and as a teacher in my own classroom, but I had never thought of using it for genealogy.  But using it for genealogy makes perfect sense – it is such an easy, visual way of laying out your research for planning, logging, or brainstorming.  You can see holes in your research must easier and you have so much flexibility to make it work for you.
This is why I was so excited to hear from Ron Arons that he has released a new book on using mind mapping in genealogy.  So while at Jamboree, I was very fortunate enough to be given a free copy of Mind Maps for Genealogy: Enhanced Research Planning, Correlation, and Analysis by Ron Arons.  (Disclaimer: I was given a free copy of Mind Maps for Genealogy at Jamboree 2014 in Burbank, CA for the purposes of a review.  As usual, these are my honest opinions on the book).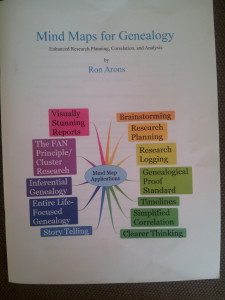 I was so excited about the book that I actually took some time to browse through it in the hotel at Jamboree.  Once I was home and had fully recovered from the three day genealogy party conference, I sat down and read the book.  I love that this book is an easy read that packs a lot of information into it.  The book is completely full color with screen shots and actual examples of mind maps.  It is also so clearly organized for reviewing specific topics.
I love that Ron has devoted a whole section to mind maps vs other tools for genealogy research – and he includes full screenshots of things like Excel tables, genealogy programs, and timelines.  It then moves into a section devoted to the basics of mind mapping complete with full color pictures.
However, possibly my favorite thing about this whole books is that there are whole sections on the genealogical proof standard, inferential genealogy, and cluster research that is all explained in an easy to understand way and with full color examples from Ron's own family.
Finally, Ron provides how-to instruction for three different mind mapping services.  He inspired me to go out and try one of those mind mapping services and although I don't think I'll switch from my use of Popplet, I do appreciate the step by step instructions for using those three services.
You can order Mind Maps for Genealogy: Enhanced Research Planning, Correlation, and Analysis by Ron Arons (2014) on his website for $26.95.