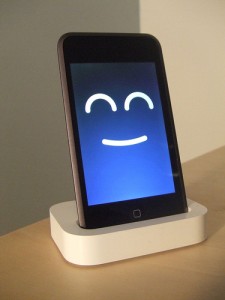 Genealogy podcasts, just like genealogy blogs, are a great way to expand your genealogical knowledge or keep you up to date on all the happenings in the genealogy world.  Podcasts are so easy to download and take with you to listen anywhere – in the car, exercising, while traveling, or even while doing simple chores around the house.
Some Terms To Understand
Podcast: A pre-recorded audio show thats placed on the internet for listeners to play, pause, fast forward, and rewind as much as they want.  A podcast can be downloaded into iTunes and/or put on a .mp3 player.
iTunes: A program created by Apple that stores your audio files and has the ability to put those files on your .mp3 player
.mp3: A file type for audio files.  Just like you picture files can have .jpeg or .gif on them, most of your audio files will have .mp3 on them.
.mp3 Player: A small device that stores and plays your .mp3 files.  (An iPod is a very popular player, but there are other brands out there
Which Genealogy Podcasts Should I Listen To?
The Genealogy Guys Podcast:

The Genealogy Guys (also known as Drew Smith and George G. Morgan) are amazing genealogists.  These guys know their stuff and have a long list of credentials and experience in the genealogy field.  They share genealogy related news, interviews with other experts in the genealogy field, answers email questions, and share their own knowledge.  I always learn something new from these guys in every episode.  And they have a cat named Fletcher who loves to chime in every once in a while.
The Genealogy Gems Podcast:Lisa Louise Cooke is the creator of this perfectly named podcast.  Her fun and bubbly personality always shines through in each of her podcast episodes.  She brings us genealogy news, answers listener email, and brings us such fun interviews.  She has a regular free podcast (published about two times a month) and a premium podcast (more episodes and videos each month).  I definitely recommend the premium podcast because it is such a great resource and worth every penny.
Family Tree Magazine Podcast: Lisa Louise Cooke also hosts this wonderful podcast thats centered around the popular genealogy magazine, Family Tree Magazine.  She is able to give a behind the scenes look at the happenings of the magazine by interviewing the magazine's writers and editors.  She provides awesome research strategies, ideas, tips, and tricks to make you a better researcher.
Family History: Genealogy Made Easy: This is a must listen to podcast if you are a newbie to the obsession hobby of genealogy.  Hosted by Lisa Louise Cooke this podcast takes you step by step into how to research your family tree – taking you from a complete beginner to a someone who understands the basics about the research process.
These podcasts are a valuable free resource to further your genealogical learning.
Photo used with permission from DerkT