HistoryGeo.com is a website created by Arphax Publishing Company.  During Jamboree, I was introduced to Greg Boyd, one of the creators of the publishing company.  Greg was kind enough to show me his awesome website, HistoryGeo and the two databases, First Landowners Project and the Antique Maps Collection.  To say I was impressed with what I saw would be an understatement.
So after Jamboree, Greg was kind enough to offer me a free trial subscription so I could show all my lovely readers this awesome resource.  So let's talk about the two databases.
The First Landowners Project is an interactive map that contains information on over 7 million landowners on 16 of the 23 public land states and Texas.  All of the information is mapped for you and allows you to track the early homesteaders.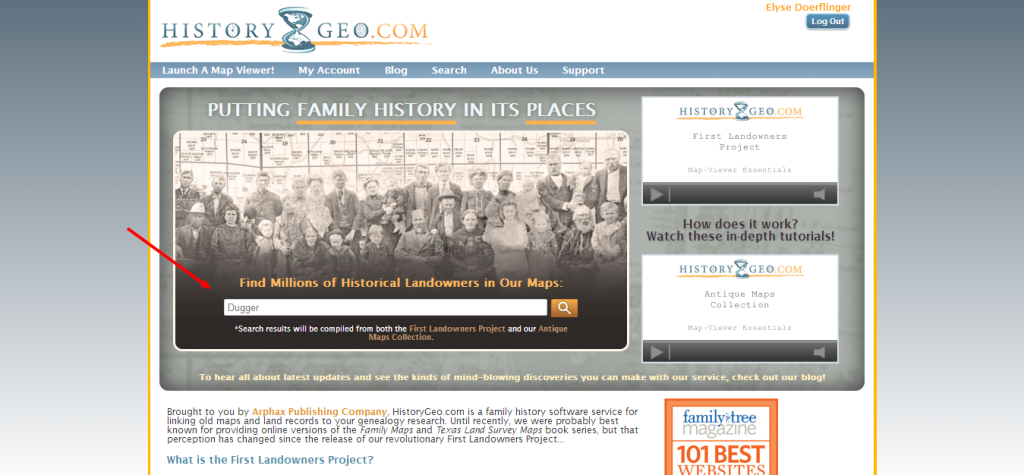 This is the homepage of HistoryGeo.  I picked one of my surnames, entered it into the search box, and clicked "Go".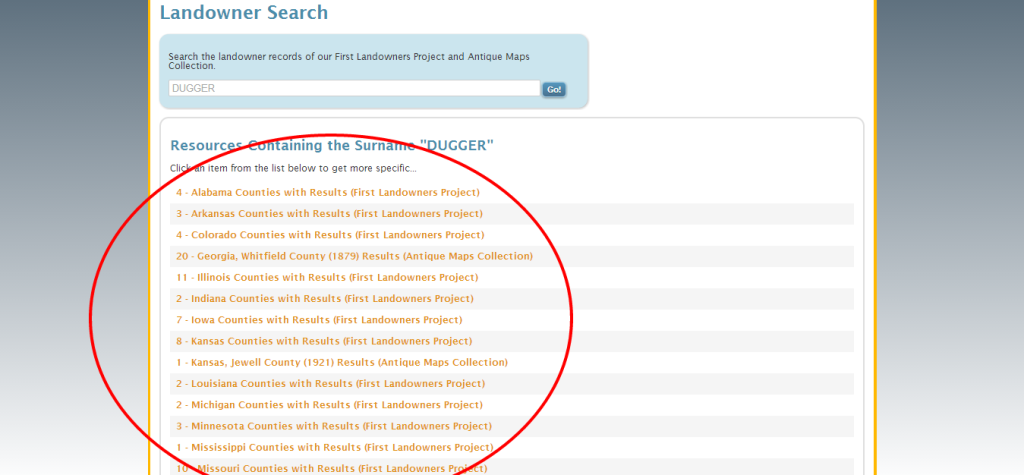 This is the search page, sorted by state and database (listed in parenthesis).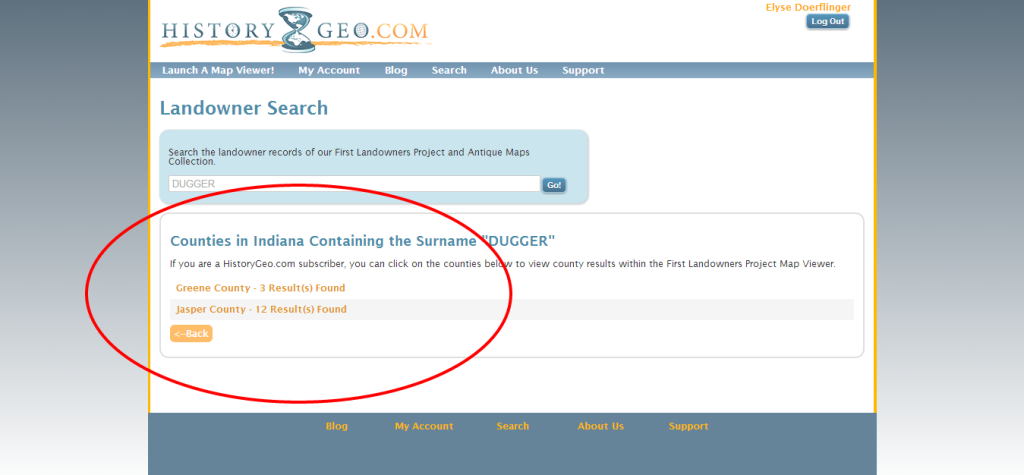 I clicked on the Indiana search result and was brought to a more detailed search results page broken down by counties.
I clicked on Greene County, Indiana and was brought to a map that shows the townships and ranges, and a alphabetical list of all the land owners in that county.  This means that I can easily click anywhere on the map to see the owner or scroll through the list on the side.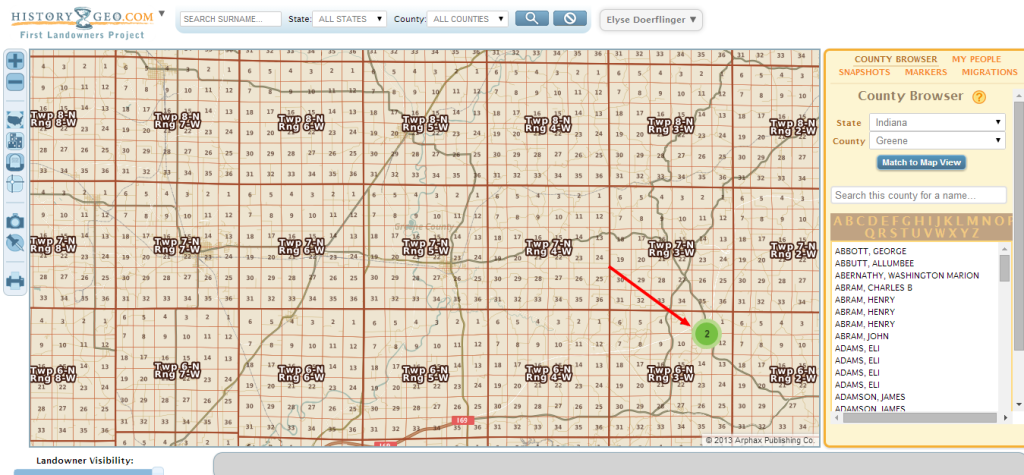 The green number two shows the two results for the two Duggers in that area.  So I decided to click on the two and selected a result.  The result is information about a land record for Thomas Dugger.  It shows all the details related to where the land is located and has links to view this spot in Google Maps, or links to the BLM (Bureau of Land Management) source and actual document.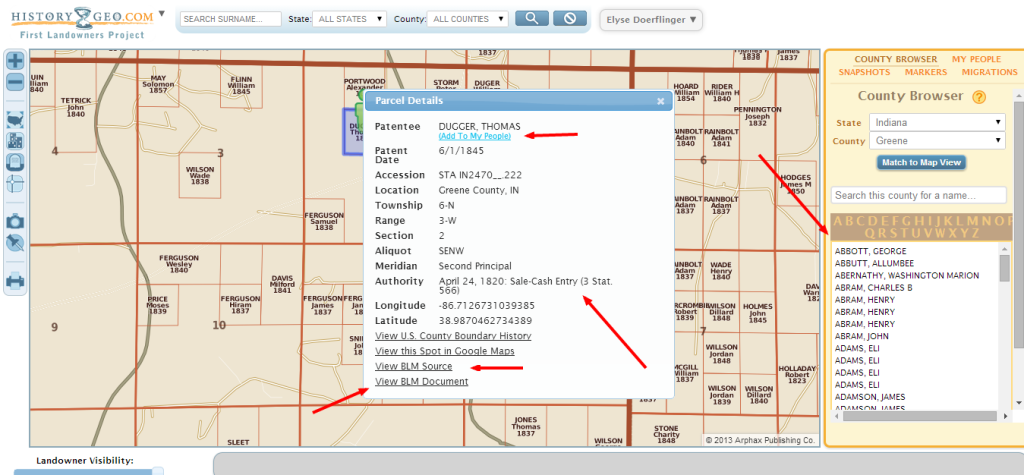 So I decided to go to the source and view it.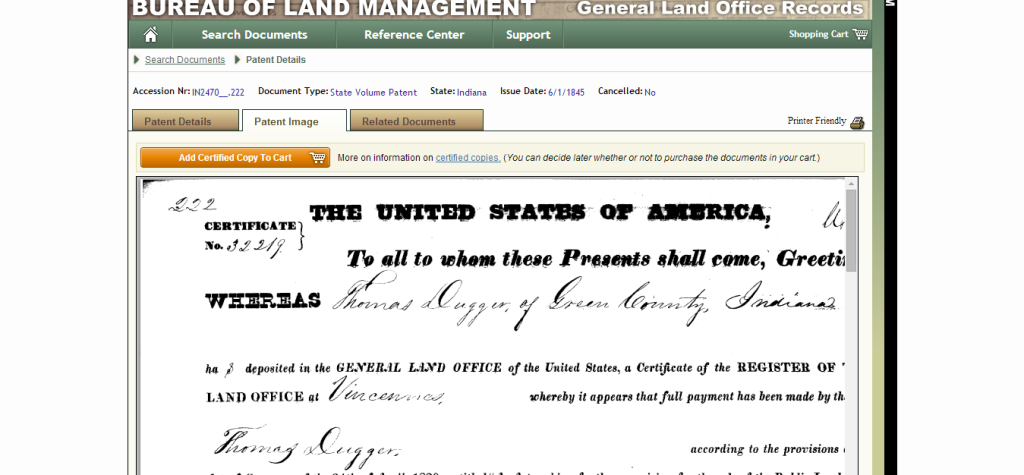 How awesome is that?
Aside from what I've just shown you, other features include:
County Browser – This allows you to browse by county and search the landowner indexes this way.  This can be especially helpful if your ancestor's name was often misspelled and may not show up in the search results.
My People – The list of people you want to keep track of.
Markers – Think of these as annotations on the map.
And more!
Right now, the First Land Owners Project only contains records of original land owners for 17 states.  The states my ancestors would have been original land owners in are not yet listed on the website.  But I love the potential and I see this website as a great resource for those that have ancestors in those states.
Have you tried HistoryGeo?  What do you think?