Every researcher will eventually run into that ancestor that seems impossible to get to passed.  This is your brick wall ancestor. Overcoming a brick wall takes patience and a good strategy.  No matter how tall or how wide the brick wall is, you can break it down.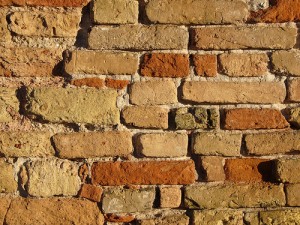 Figuring Out What You Know
The first step to breaking down that brick wall is to figure out exactly what facts are known.  The best way to do this is to create a timeline of the brick wall ancestor.  On this timeline, include every known fact that you have about this ancestor.  Be sure to then include a list of each source that proves each fact either on the back of the piece of paper or on another page if in a document.  This timeline will show you at a glance exactly what you know and exactly what is missing.
Did You Miss Something?
The next step is to review the actual sources that you listed with your timeline.  Do not review your notes, transcriptions, or abstracts of your sources, but actually view the record itself.  Looking at this document with fresh eyes might show something that you missed that could be a lead.  If you discover something that you missed, then add it to your timeline.
You could always create a timeline on your own, but you could also use pre-made ones.  Here are some forms for creating a timeline:
Creating Your Research Plan
Your research plan is a living, breathing, ever-changing document.  It is your guide to breaking down your brick wall.  Get comfortable with your research plan because it is your best friend.
The point of a research plan is to clearly define exactly what you are looking for and list potential records to check for that information.  As you look at more records, you will add to the research plan.  You will create new goals and a new list of records to check.
You could create your own research plan with pen and paper, a word processing program such as Microsoft Word, or you could use a pre-made form.  Here is an example of a pre-made research plan at ShoeString Genealogy.
Using your timeline, decide exactly what you want to know about your brick wall ancestor – this will be your goal.  Then begin to brainstorm exactly what kinds of records would help you find that information.  Fill this information into your research plan.
Do you have any great suggestions for creating a research plan?  Do you create your own timelines and research plans or do you look for pre-made forms?
Further Reading:
Thanks to ezioman for allowing me to use this photo.