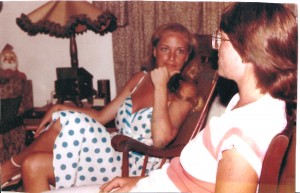 Sharon Ann Doerflinger
June 20, 1959 – February 28, 2010
I love this picture of my mom.  It captures who she was – always thinking, contemplating, wanting to learn more.  She always had questions about things.  She was easy to talk to and could start a conversation with anyone.  She was honest and didn't believe in sugar-coating things.
One of the things I miss most about my mom is our very heated, passionate, and often loud debates.  We talked about politics, health care, morals, religion, the world, our hopes, our dreams – everything.  We often agreed about the big picture but disagreed about the details.  Whenever we got into one of our debates, people thought that we were actually angry with each other.
Her constant pressure on me to question the world and the way things are is why I am the person I am today.  She was the type of person who always stood up for what she believed in – no matter what.  But while she stood up for her beliefs, she also wanted to understand the other side of the story and why people thought the way they did.
I really miss her.  But I am so grateful that she is my mom.