Today would have been my Mom's 52nd birthday.
I've been trying to write this post for weeks.  I've written it and rewritten it at least a dozen times.  I've added photos, rearranged them, took them down, changed them, and rearranged them again.  I've been desperately trying to find the words that would grab her essence.  Something that would describe her.  Something that would describe who she was.  Something that would capture her.  But no matter how many times I've tried, I just can't seem to do it.
My mom was not someone who could be captured in a blog post or a scrap book or in pictures.  You just had to know her.
Mom was a born rebel.  She seemed to love to follow the unbeaten path.  She seemed to have a natural attraction to breaking the rules.
Mom loved adventure.  She loved trying new things and going on new discoveries.  She never had a plan.  Plans are not adventurous.  Packing up the car with clothes for any kind of weather, a cooler full of snacks, and picking a place on the map that "calls to you" is adventure.
When we lived in Seattle, we would take impromptu weekend trips.  We would pack the car with some clothes, a cooler full of drinks and snacks, and then we'd just go.  Mom would have me pick somewhere on the map and have me read the map for directions.  When we found an interesting place or got tired of driving, we would look for a camp ground and hang out for the night.  We'd make a fire and play cards or read.  We'd listen to music and relax.  That was just how Mom did things.
Mom was also a fighter.   She was never the type to stay quiet in the face of injustice or wrong doing.  She always believed in helping people – especially the "underdogs" of the world.
When Mom stood up to wrong doings – it was magic.  She always came prepared with the facts and evidence.  She was strong and unwavering and never backed down.  When she was on a roll – people were afraid of her.  She was always ten steps ahead.  When it came to doing the right thing, Mom was never scared – or at least she never showed it.
That isn't to say that Mom and I always got along – because we definitely did not.  We are both stubborn control freaks, which did not always mesh well.  Our fights were huge.  Sometimes we would go days without talking to each other.  But we'd always find a way to get over it – generally through laughter.  And then we'd talk like we had never gotten in a fight in the first place.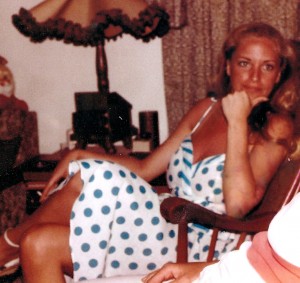 Happy Birthday Mom.